#FunFact: Did you know that Greece has more than 6,000 islands across the Aegean and Ionian Seas? Very often most travellers visit Santorini and Mykonos which are the popular ones like Santorin – the land with its rocky, dramatic cliffs surrounded by white-washed houses and turquoise blue waters and Mykonos which describes its unique beauty  and offering so much more to explore.
A quick question, how often do you speak to locals and discover hundreds of tiny gems during your vacation? Well, its time you start. Greece is an island waiting to be explored from the colorful fishing boats, the odd vine- covered tavern to the spectacular sights – all to you. Here's our pick of 5 of Greece's best kept secret islands.
Alonnisos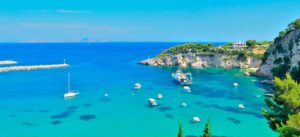 Alonnisos is remote and rarely visited by travellers. Though its relatively large for a Greek island, this is perfect for those who want to take some time away from the bustling life and truly get down to some peace and quiet. This gorgeous mountain island got just what you need- a pretty harbor village with a rocky coastline and rows of vines. If wildlife is something you're interested in then you have come to the right place. Watch dolphins jump out in the bays and lazy Mediterranean monk seals sun bathing on the beaches.
Pano Koufonisi
Pano Koufonisi is packed with a large fleet of colorful fishing boats that keep the tavernas stocked with fresh catches of the day and you get to witness it first-hand! A little similar to the popular Santorini island, it has a picturesque view of the white-washed houses over the magnificent waters. With hidden bays and small beaches lapped by the shallow waters to enjoy your vacation – all you need to do is kick back relax and read a book.
Schinoussa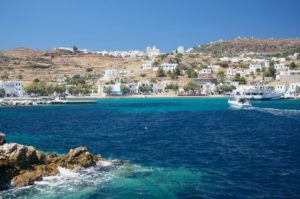 Greece is all about exploring area that you would not think of otherwise. Schinoussa was once a hideaway for smugglers and pirates but is now a destination for those who are looking for something apart from parties. Take your pick – a night in a guesthouse or spend your day sailing along its rocky coast, indulging in some traditional food or even relax on the islands beach. A perfect way to end your day.
Folegandros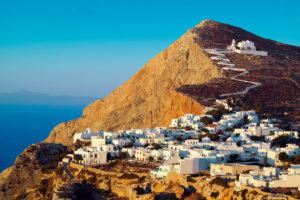 Beauty is not necessarily located in a secluded area. Not far away from Santorini is Folegandros which dramatically rises out of the sea. A visit to the clifftop village of Hora is a must for all first time visitors seeking to unravel a slice of Greece in its true form. A typically white-washed home are perched on the rocky decks overlooking the rest of what this beautiful city has to offer – without a doubt the most scenic spots.
Sikinos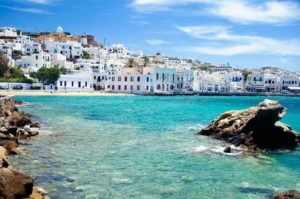 There is always that one place that has a unique charm – Sikinos, a remote, quiet and off the tourist radar is where you need to be if you're looking for solitude. Hold up, that does not mean there isn't anything to do here. The Episkopi temple is where you can catch a glimpse of Byzantine chapels and the beautiful marble sculptures. Spend a night in the remote village with a rustic accommodation setting where you can knock back cold glasses of Greek wine while you admire the sunset.