When you think of Switzerland, you think of chocolates, cheese and skiing. However, not many people consider visiting the lesser known villages of the country. Andermatt, a quaint town, is located near the Gotthard Pass, an hour and a half south of Zurich. Surrounded by the Swiss Alps, the valley offers fabulous snowy conditions, with cable cars taking skiers and snowboarders back and forth from Gemsstock Mountain.
Some places can make your pulse race, while others can calm you down within a second. The Chedi in Switzerland is one such destination, which can transport you to a wonderland. Simply magical at first look, and ultra luxurious in every aspect, The Chedi will leave you wanting for more.
The stunning design of this award-winning resort is captivating at best. While the exterior is created with Alpine wood and glass, to make it look like a traditional chalet, the interior with its contemporary Asian design is a fresh combination. The 15-ft high lobby is divided into well spaced areas housing various wood-burning fireplaces, lounging sofas and well-stocked bookcases, and has a direct view of a 35-metre long sports swimming pool. Apart from this spectacular water body, the hotel provides 3 warm pools with different temperatures, dry and wet saunas and rain showers.
With a spa that extends over 2400 sq.  m., the award of "Most Indulgent Spa 2015" from Conde` Nast is extremely well-deserving. The Spa provides utter indulgence with 10 deluxe treatment suites where highly trained therapists will ensure that you are at peace and rejuvenating the right way, using organic products from SpaRitual, Ila, REN and Alpienne. The Spa alone, in my opinion, is a reason good enough to put The Chedi down on the bucketlist.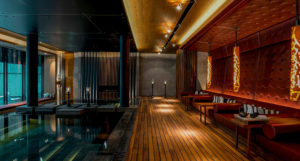 There is luxury and then there is the kind of luxury where you see your hotel room and squeal. The Chedi is guaranteed to make you jump and scream in excitement. The hotel is made up of 123 spacious rooms and suites that are designed by Architect Jean-Michel Gathy, known world over as one of the finest luxury hotel architects with properties like Cheval Blanc Randheli, One&Only Resorts and Aman Resorts to his name.
The rooms designed are enormous and tastefully designed with heated stone floors, open fireplaces, piles of cashmere throws, sheepskin rugs and iPads that automate all the equipment in the room. Bathrooms are spacious with deep soak bathtubs and separate rain showers, so that you can choose between resting for hours or easing those worked up muscles.The rooms are well-detailed, but still maintain their subtlety with warm Alpine tones fused with modern, Asian design.
For those that believe a vacation is more about adventure and less about relaxing, The Chedi ensures that you are ready to go skiing at any moment you would like. With Ski Butlers to make sure skis, boots and equipment are ready to go; The Chedi pampers you even when you want to go on an adventure. From keeping equipment ready to being available to deliver and collect your equipment, the Ski Butlers ensure that you have to do nothing but enjoy your adventure. The hotel provides a fleet of luxury cars to transport its guests from the resort to the ski lifts on call.
If this doesn't excite you enough, here's more – the hotel also provides some additional activities like Goat Trekking, a Small Cable Car Rally, a Gold Digging experience and Fishing in the mountain lakes of Andermatt. For the luxury sport lovers, Andermatt boasts a world-class 18-hole Golf Course.
Without good food, no vacation is complete. The Chedi houses 8 restaurants and bars, so that you can choose the venue and setting that appeal to you most. Apart from The Restaurant that serves an extensive and delicious fare, the hotel also has a Japanese Restaurant for your taste buds when you crave fine Asian food.
All in all, a remarkable hotel that gives you the best of relaxation and adventure, The Chedi does not compromise in any aspect. A great design and subtle notes complete this property to give you a world-class experience with enough privacy to make your stay enjoyable. So head on to The Chedi to indulge in pure luxury and to appreciate the powdery mountains and breathtaking views they bring.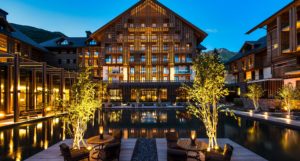 With various offers for Stay and Activities, this hotel is a perfect choice for any kind of vacation – honeymoons, family holidays or a quick getaway from the hustle and bustle of the city life!